BIJAN
AGENCY: 
Citic Shanghai Company Limited
CLIENT / SECTOR: 
Bijan Managing / Coaching - Wellness
MARKET: 
China
TYPE OF EVENT: 
Seminar
PACKAGE: 
235 people – 18 days / 17 nights
TARGET AUDIENCE: 
Heads of companies / Managers
CONTEXT: 
International personal coach Bijan Anjomi holds personal development seminars all over the world all year round. This year, for this group of Chinese participants, Bijan Anjomi wanted to hold his seminar in Europe and more specifically Monaco due to its economic and geographic appeal.
Challenge
Repeat the success of previous BIJAN MANAGING seminars held in Las Vegas, New York, Hong Kong, etc., in Monaco. Offer a wide variety of experiences suited to a Chinese clientele throughout the seminar.
Plan and execute a 2-week seminar in a highly reputable 5-star hotel in Europe.

As a member of the Leading Hotels of the World that can accommodate groups of up to 300 people, the Hôtel Hermitage Monte-Carlo was selected.

Welcome 235 participants and organise an 18-days programme.

One contact person was specially assigned to event planning.

Have a large conference room big enough to accommodate all attendees all day long.

The Salle Eiffel was used as a private venue. This large conference room at the Hôtel Hermitage can accommodate up to 340 people using theatre style seating.

Hold all lunches at the Hotel Hermitage Monte-Carlo. Provide a personalised service suited to the specific requirements of the event and a Chinese clientele. 

Buffets offering different menus every day were set up in the Salle Belle Epoque and Salle Régence, both historic monuments.

An American-style breakfast buffet also offered a few Chinese specialities such as sticky rice and dim sum.
Rooms were customised for Chinese guests with green tea, a kettle, a fruit basket, Chinese soups, and bottled water.
Translate the menus, signs and hotel map into Chinese.
A special Wi-Fi code, personalised for the event, facilitated access for attendees.

Organise a gala dinner for VIP guests in one of Monaco's most prestigious banquet halls.

The gala dinner was held in the Salle Empire at the Hôtel de Paris, a historic monument located a stone's throw from the Hôtel Hermitage.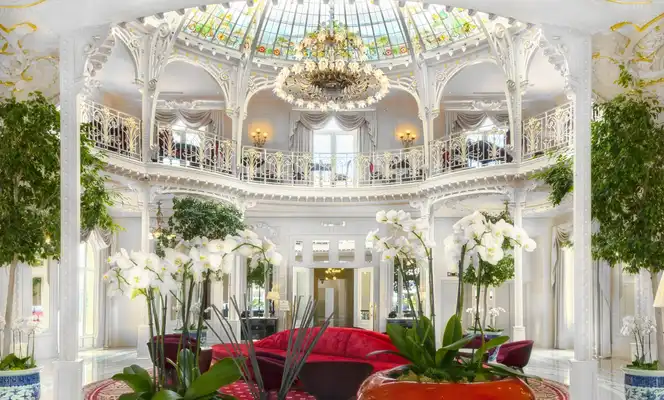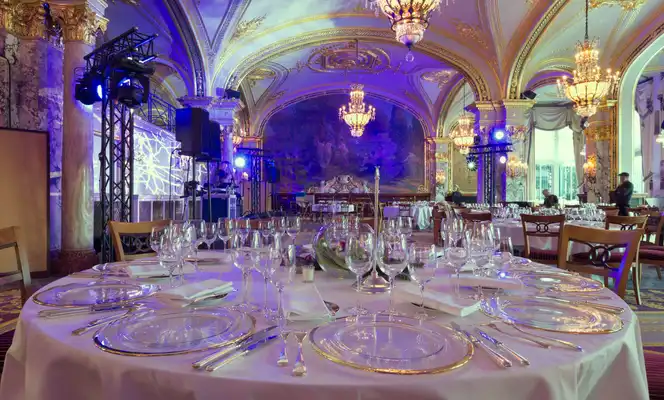 SUMMARY
Ensuring 5-star service according to the number of participants and duration of the seminar.
Adapting offerings and services to the specific needs of different international clients.
A special event planning team with one main contact person for all aspects of the event.
Discover
our case studies