EFFECTIVE BUSINESS TRAVEL
EFFECTIVE BUSINESS TRAVEL
AGENCY: 
Effective business Travel 
CLIENT / SECTOR: 
Global IT Compagny
MARKET: 
Worldwide
TYPE OF EVENT: 
Incentive
PACKAGE: 
365 people – 5 days / 4 nights
TARGET AUDIENCE: 
Highest achieving employees of the year and their partners
CONTEXT: 
Every year, this global Information and Communication Technology company rewards its highest achieving employees of the year by giving them and their partners an opportunity to escape to a dream destination and stay in the best 5* hotels in the world. Following a successful initial experience for a group of 100 employees at the Hôtel de Paris Monte-Carlo years ago, the company chose once again to work with Monte-Carlo Société des Bains de Mer, bringing together 365 people for this year's event.
Challenge
Find a 5* hotel in a rewarding, easy-to-reach location for employees and their partners, offering them the highest levels of service and a wide range of activities.
Organise this high-end incentive in a luxury hotel in the centre of Monaco capable of accommodating all participants.

The 5* Hôtel Hermitage Monte-Carlo was selected for this event and almost privatized for this VIP group. Out of 278 available rooms and suites, 160 rooms and 40 suites were dedicated to this event.

Organise cocktails and dinners in various luxury venues owned by the Société des Bains de Mer: 

 

Welcome Party – Cocktails followed by a sit-down dinner for 375 people. 
2nd night – Dinner : free time
3rd evening – Celebration dinner
Farewell party with cocktails and gala dinner.

Organise a meeting for 150 people during the event and in the same hotel.

Exclusive use of the plenary room at the Hôtel Hermitage Monte-Carlo, fully equipped and able to accommodate up to 340 people with theatre style seating or 150 people with classroom style seating.

Provide a variety of activities for participants during their free time. 

Provide a variety of activities through the Société des Bains de Mer: shopping, Thermes Marins Monte-Carlo, golf, tennis, water sports, etc. and additional activities through the destination management agency Raising Stones: tour of Monaco, boat tour of the Mediterranean coastline, day trips to beautiful nearby villages (Villefranche, Eze, Beaulieu, etc.).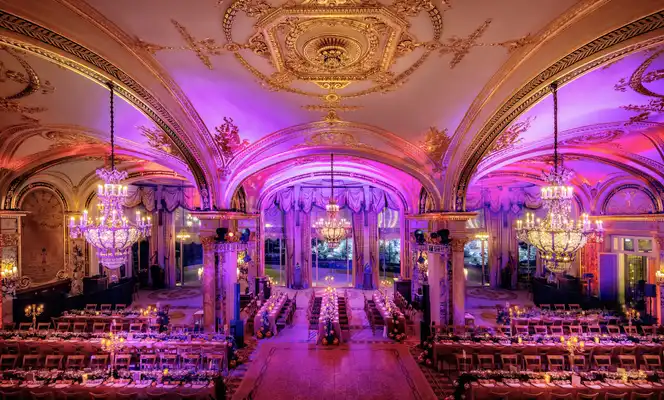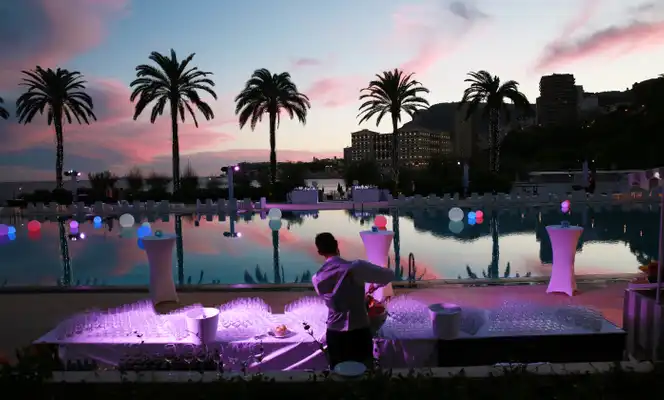 Testimonial
"The Summit was very impressive, much more than one can expect. Thank you very much for the very special days in Monaco."
 
"We've never had something similar to this, unbelievable stay in Monaco. Many thanks!"
 
"This has been a marvellous trip for me and my husband who turned 60 years old in August. We have both attended several company events – also reward types in the past 20 years. We believe that no other event can hit this one. Thank you once again for all arrangements, fine lunches and dinners – as well as the compliments that suddenly appeared to our hotel room."
 
"Fantastic event thank you – all aspects were excellent"
SUMMARY
A 5* hotel able to accommodate over 365 people in the centre of Monaco, just a stone's throw away from the legendary Place du Casino.
A different venue in Monaco every evening for cocktails and gala dinners.
A variety of restaurant and leisure options (33 restaurants & bars, spas, tennis, golf, etc.) within the resort Monte-Carlo Société des Bains de Mer, making it possible to create a complete programme over several days.
A dedicated event planning team, with a single contact person for all venues.
A wide variety of incentive activities available in Monaco and the Cote d'Azur.
Discover
our case studies